There's a lot of options to choose from when planning for a trip with your sweetheart. From beach getaways, road trips and different staycations, you can choose depending on your taste.
Love is in the air all year-round. Don't be scared to spend some savings for a well-deserved vacation for refreshment and of course, romance. Planning for a sweet vacation or honeymoon but was having a hard time choosing which place to go?
Here's a list of the top ten most romantic places to travel to:
Paris, France
Paris has been a dreamy, romantic place that most girls or even boys want to visit. Who wouldn't love a romantic date while watching the sunrise/sunset along with the iconic symbol of love, the Eiffel tower? Paris, also known as the "City of Lights" or the "City of Love", has been capturing the hearts of many all over the globe as it is filled with history, culture, beauty and art.
It's like a complete package. Whether you search for its amazing views like the Notre Dame, Arc de Triomphe, Montparnasse Tower, or even stroll along the banks of Seine, it has left us in awe for centuries. You could also consider rowing a boat together in the Grand Canal and have that romantic Tangled vibes when Rapunzel sang a duet "I see the light" with the man she'll soon marry, but on your part, you're with someone you love.
You could also enjoy getting lost in maze gardens, or just relax at the quiet retreat of the Queen's Hamlet. Want to try a movie date? We got you! Paris isn't just all about the fancy dresses and dashing views, it also offers many classic, luxurious decorated movie theaters that feature classic movies in their own language.
Another option is to take a baking class and have fun spending an afternoon while baking French pastries together. Isn't that sweet? Paris still has a lot to offer but it is now your turn to discover yourself as you plan your vacation here. See you!
Santorini, Greece
Did you know that Greece is one of the filming locations of the famous kdrama "Descendants of the Sun"? Yes, it is! And today, we are taking you to one of its romantic places to visit, Santorini. Santorini isn't just about the white and blues, it is a beautiful island with lots of breathtaking places for couples to explore.
First is the Oia. This white-washed village is the perfect view to watch the sunset along with the views of Thirassia Island, Volcano of Palia, and Nea Kameni. To better enjoy your experience here, try enjoying this wonderful view on a romantic cliffside restaurant of your choice.
Want a lesser crowd and just enjoy a peaceful time with your love? Akrotiri is one of the best places to go. Being a lesser-known attraction, you can ensure that you're mostly crowd-free. Enjoy the view as you climb to the top of the old fortress then check-out the grapevines afterward.
Now, what is Santorini without wine? Indulge the local wine in Imerovigli, also called 'Balcony to the Aegean (Sea)'. Cheers to you and your other half as you savor the moment while in Santorini. As we move forward, we reach the famous black sand beach, Perissa.
Alongside it was the Mesa Vouno, a gigantic rock that is another attraction of the locale. Take your other half hand in hand as you walk and cherish walking by the beachside. A donkey ride to the new ancient ruins of Thera is also a great experience.
You can also visit the labyrinthine streets, hidden passageways, and fortified walls of Pyrgos. Along with the Venetian Castle, and churches like churches like Agia Theodosia, and Archangel Michael.
Venice, Italy
Fascinated by photos and videos we see online, Venice does not fail us when it comes to romance. Also known as "The Floating City" and many other names, nothing is sweeter than a Gondola ride through the twisty canals of the city. The best time to do this is during sunsets in order to enjoy the pink and orange hues that cover the city.
Stargazing is also as romantic as you watch the Venetian skies twinkling at you, reminding how much love there is in your heart at that moment. Well, Venice isn't Venice without Opera. Witness a romantic ballet or a live Opera show with your other half to set the mood as you go.
Also, don't miss out on the most romantic neighborhoods in Venice, like Zattere, where your eyes will feast on the panoramic views of the Giudecca Canal as you watch the lights dance on the water along with the charming pastel Baroque buildings on its side.
And lastly, don't ever, like ever, miss their Gelato. A scoop of two or three could easily melt your stress and frustrations away. Want to try the best gelato in town? Alaska is here for you offering wacky flavors like ginger and even basil!
A new experience is always a must to try, you'll never know where your taste buds could take you. There's more to Venice than what I could list above. Discover more things as you visit this romantic city.
Amalfi, Italy
Are you a hopeless romantic and wanted to have a romantic getaway? Amalfi is indeed a love at first site adventure. Fall in love with it as soon as you stepped in.
A secluded and romantic day at the beach is guaranteed by Santa Croce Beach or take an adventurous hike at Valle Delle Ferriere and pass through the ruins of old paper mills and even go straight to a crystal clear mountain stream. Atrani, as a tiny town in Italy, which may be little in size but competitive in offering you a sweet experience as you wander in its maze of streets, beach, or dining restaurants.
You might want to visit Positano as it is home to vibrant nightlife and characteristic shops. It is the most popular town on the Amalfi Coast which is also famous for its picturesque beach and lots of beautiful hotels and accommodations you could choose from.
May, June and September are a good time to visit. Crowds are high in August so better avoid it if you're not into a large number of people. Could it still get dreamier? Yes! The infinity pool at the Hotel Caruso in Ravello is really breathtaking. Photos of it are spread around the internet which makes us dream of spending leisure days at the pool. The view could literally make you speechless, just appreciating beauty from below.
Maui, Hawaii, United States
Maui, not the guy we know from Moana, is known as the "Magic Isle of Hawaii", known to be the second largest Hawaiian island and is famous for its world-famous beaches, magnificent sunsets, abundant marine life including views of migrating humpback whales (during winter months) and a couple more.
There's no such thing here as lack of activities because there's a lot of great stuff to choose from. Starting from the famous Haleakala, the highest dormant volcano in the world and the highest point on Maui at an impressive 10,023 feet. An early morning hike here would be really worth it as you reach the top and just watch how the sky dramatically changes for a sunrise.
Don't forget to bring extra clothes or blankets as temperatures have been known to drop well below zero.
Since we all know Moana, Maui, again not the big guy, was also a friend of the sea and lets you transform into a mermaid! Well, not literally, but Hawaii Mermaid Adventures will bring you this enchanted experience as you swim and play in the ocean with a colorful mermaid tail.
Prepare your mersmiles because photos are part of the experience as well. Are you a nature lover? Experience this amazing road trip to Hana with 68 miles of lush Maui rainforest. Turn off that A/C, open the windows as you enjoy the warm and fresh air on your way.
Activities may vary from hiking through bamboo trees, standing in lava tubes, swimming in freshwater caves and a lot more.
Bruges, Belgium
When we hear Belgium, we go hungry for Belgian waffles and chocolates. Aren't those sweet treats that we crave for? But today, we aren't focusing on food but will be discovering why Bruges, the "Venice of the North", has been listed as one of the most romantic places to be.
From gingerbread houses to beautiful swans, Bruges has it all. Starting with its sentimental legends, the Minnemeer (also known as Lake of Love), was named after the romance between Mina and her brave warrior sweetheart, Stromberg.
Though their tale tragically ends with the girl's death, her lover buried her under the little lake, where now it is believed that couples that kisses on its bridge are promised for everlasting love.
While other countries offer wine, here, we got tons of beer. In fact, there are almost 12,000 bottles worth of Brugse Zot and Straffe Hendrik produced in Half Moon Brewery every hour! That bond over Belgian beers would be something different for a normal day.
It's medieval glory is also undeniable as it is more evident in eye-catching sites like the Belfry and Rose Hat Quai. Still can't move on from the beautiful castles and abbeys? More of these medieval pearls await you in Brugse Ommeland.
As it is called the "Venice of the North", classic boat rides are also a great way to explore its picturesque historic core.
Bora Bora, Tahiti, French Polynesia
Still having a hard time choosing for a couple-friendly vacation? Bora bora is here for you! It's a couples' island where resorts and activity providers already know which are the best offers for you.
Starting with a dinner for two by the lagoon-like being in a romance movie where most men propose or just have a great night with their lady.
Imagine that candle-lit area being served by your own on-call waiter. What a night! The following day, you can have a relaxing couples experience at a Bora Bora Spa. Both of you indulging in this calm experience while removing the stress and body aches from your long trip.
Still wants more? Take a private lagoon tour. Feet dipped in the water, or maybe not, your choice, with Polynesian picnic, these simple things could be more romantic once you experience it yourself. While on the lagoon, take time to cherish the sunset as well, it does not only give you that pinkish purple sky, but also a great moment for a good photo or a sweet kiss.
One of the most romantic things to do in Bora Bora is a surprise flower bed or a petal filled bubble bath. This is perfect after your private dinner by a lagoon or a place of choice.
Just when he/she thought the day was over, it was actually the beginning! You can also set a photoshoot session with a Bora Bora photographer as the whole place is so perfect for albums or special occasions like prenuptial photoshoots.
Cerf Island, Seychelles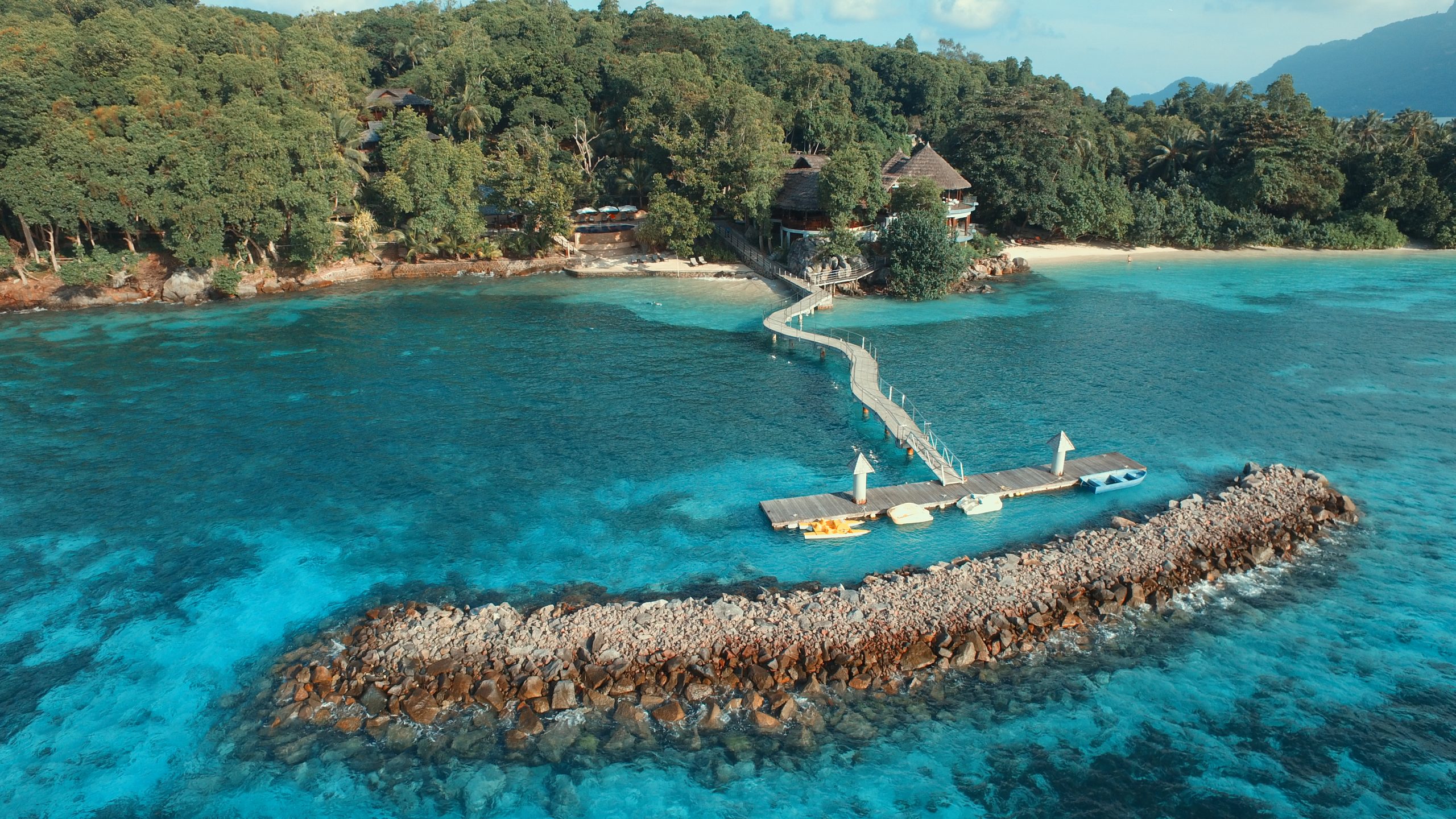 This is a perfect romantic paradise island which is ideal for couples as there were no children roaming anywhere. Ideal for honeymoons.
It is where that longed "quiet togetherness" can be achieved after a few months of stressful preparation for the wedding and all. Just the two of you cherishing every moment looking at the white sand beaches and sparkling blue waters.
Life, beauty, and romance-filled this exclusive tropical resort in Seychelles and its relaxing way of life is truly infectious. Luxurious accommodations are ready to welcome you with their best service to satisfy you with your needs.
It is not the perfect place for a getaway, but to be literally away, not minding others' business for a week or two. Activities may include guided snorkeling and hiking tours to experience and share the wildlife and biodiversity around this tranquil island.
The Gili Islands, Bali, Indonesia
While we on our top 9, Gili Islands is still competitively great for couples to travel to. Starting with the "Love Swings".
These swings have been popular in Indonesia as you can find it in the trees or over rice terraces in Bali. But here, a beautiful wooden swing overlooking the ocean is a perfect spot to either watch a sunset or take photos for your Instagram account.
Couples massage is also offered, but it ain't your typical kind of massage but a very special Balinese massage which includes a deep tissue massage that uses stretching, reflexology, and acupressure. Intense moments are expected but a cloud nine feeling is guaranteed as the Indonesian women took care of the achy joints you've had before this trip.
Missed a movie night? Prepare your cozy outfit and enjoy a warm snuggle on bean bags with cocktails and some snacks under the stars while you have an open-air cinema on the beach. Of course, what is an island without swimming?
Dive and swim with sea turtles, different sorts of corals, and abundant marine life while you visit. After a good swim, you can also have a bike around the island and enjoy deserted parts of the island for a calm and peaceful view. Also try their incredible banana pancakes, a tropical fruit platter, fresh fruit juices, and local coffee while having the most of the morning.
Maldives
Though Maldives has been one of the expensive trips to book, it was totally worth the money. From spa treatments to beaches and other leisure activities, Maldives is really a go-to place.
Diving or snorkeling with gazillion reefs while witnessing colorful fishes and other sea life creatures along with a marine biologist guide is one of a must-trys here. With around 200 immensely beautiful inhabited islands, island hopping one by one will give you a completely different beauty that each island has to offer.
After a couple of activities, your body might feel quite sore so it's time to pamper yourselves, along with your partner, and request for a sand massage along the turquoise water. Indulge in this rejuvenating couple massages and be ready for another day.
Do you both love to watch sea life? Well, the Ithaa underwater restaurant is ready to serve you delicious meals while having a great view. Not just that, it also transforms into a romantic bedroom where you can stay while being served champagne along with delicious breakfast in the morning.
Still, craving for more enchantment? You might not want to miss out on their glowing beach at night. It might feel like a fairytale filled with fairy powers but these beaches glow due to Bioluminescent Plankton that is washed on the shore by the waves.
There's a lot of activities you might want to try while visiting here. Prepare your savings as the Maldives is excited to serve you with an experience you won't forget.