If you're reading this right now, then you surely are decided on traveling. You may just be asking if you surely want to go to China. Or you are already wondering about the things you can do in China. Worry not, we are here to help give you brief information about China and show you the most amazing places that this country has to offer.
China is a very huge country with vast amounts of tourist attractions to offer from spectacular sceneries, amazing culture, rich history, and its fast-developing skills. This country is considered as the largest country in Asia and the most populated country in the world.
China offers a lot of wonderful places to visit and enjoy when you travel here. There will be an overflow of choices that won't let you think what to do next.
To make your decision-making process easier, here are the top destinations that you might like to visit during your stay there.
The Gateway of China, Beijing
Being the capital of China for more than 800 years, Beijing is known as the ancient and modern capital that is a must on your top list to visit. It is home to some of the finest remains of China's imperial past and filled with its culture. With a large population of estimated more than 21.5 million, and an area of 16,808 km², Beijing alone can offer you a lot of destinations to choose from.
Explore its glorious past with a touch of its modern era prestige as you climb the famous Great Wall of China that extends up to 4,000 miles and enjoy its stunning night views. You can also visit the Forbidden City which is the best-preserved imperial palace in China and considered the largest ancient palatial structure in the world.
Avoid the crowds by hiring a guide that will take you to the hidden treasures of the palace where you might dig deeper from the emperor's personal lives, imperial examinations, and worship.
Other destinations you might want to take a look are The Temple of Heaven (a royal altar is where the emperors of the Ming and Qing dynasties once worshipped heaven), Tian'anmen Square (world's largest famous square that can accommodate up to a million people), the Summer Palace (the well-preserved imperial garden in the world), and a lot more to include in the list.
Also, don't miss out their famous Beijing Roast Duck which is the epitome of Beijing cuisine that will surely make you hungry from its juicy, thin, crispy skin, with authentic versions of the dish serving mostly the skin and little meat.
Giant Pandas in Chengdu
Pandas are one of the cutest creatures living on Earth. They have a distinctive appearance with thick black and white fur that protects them from the cold along with their remarkable black patches around the eyes and ears, black legs, and a black band around the shoulders. These fluffy animals have been very famous on the internet for their cute cuddles and personalities.
If you want to experience a close sight of these cuties, Chengdu Giant Panda Breeding and Research Base got your back as they specialize in caring for baby pandas and of course the older ones. It does not only focus on the breeding pandas but also on showing and providing interactive activities that teach people about pandas and how to protect them. It is a research center which is different from a zoo so it is not their priority to display the animals.
Besides the black and white pandas, they also have red pandas, black swans, and peacocks in the base. Pandas love to sleep a lot! So if you want to catch them awake, it is recommended to visit in the morning, especially during feeding time between 8:30 and 10:00.
On the other hand, if you want to witness the beginning stage of a baby panda, you can set a schedule in August or September when mommy pandas usually give birth.
The Yellow Mountaints near Shanghai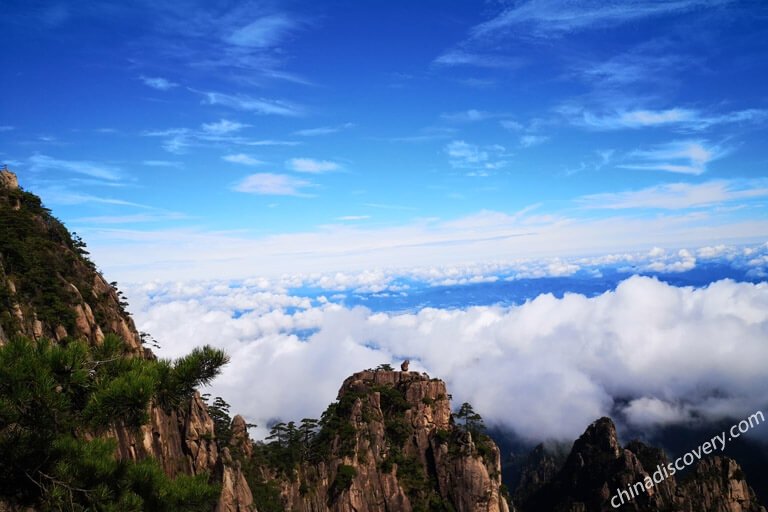 Huangshan, also known as the Yellow Mountain, has already built a name locally and abroad. It is found in the Anhui province and was named as a UNESCO World Heritage Site in 1990.
The scenic area is truly impressive with its steep peaks and rocks. Its landscape also consists of a number of Taoist constructions and influences in the area that contributes to the tranquility of the beautiful religion.
Tourists visit the Yellow mountain for its stunning sunrise and sunsets. It also has 36 peaks including the Beginning-to-Believe Peak (1,668 meters), Peach Blossom Peak (a peak that blossoms with red and pink flowers every March and April due to the peach trees around the area), and the Lion Peak (1,690 meters which got its name from its lion-like appearance).
Different natural wonders can be found in the mountain like pine trees, kistler rocks, hot springs and their famous sea of clouds. There are also ancient villages that are nearby like the Hongcun Village, Tunxi Ancient Street, Xidi Village, Tachuan Village, and Shexian County.
The Terracotta Army in Xi'an
Being the second most famous capital in China, Xi'an continuously has been competitive with its great number of precious relics and historical sites. You can start off with the Terracotta Army where you can visit the Mausoleum of Qin Shi Huang.
Here, you can find warriors that are impressively built from its size, the expressions and being a perfect craftwork in whole.
The museum is filled with a super large collection of life-size terracotta sculptures placed in battle formations, reproducing the mega imperial guard troops of Emperor Qin Shi Huang (the first emperor of the first unified dynasty of Imperial China) that could make you spend at least 3 hours of walking around the place.
If you have been curious on how old these structures are and decided to start putting pieces together, you might be surprised that the Terracotta Warriors date back from 221 B.C. If you have spare time and extra energy, you can next visit one of the workshops around the museum and take a closer look on how the warriors are made. You can also make one in some local clay and take home your handmade terracotta warrior as a souvenir.
As the most significant archeological excavations of the 20th century and also a UNESCO World Heritage Site, the Terracotta Army is no doubt a must-see for every visitor of Xi'an.
Potala Palace in Tibet
Potala Palace in Lhasa, Tibet is honored to have the title of being the highest ancient palace in the world, with its highest point reaching 3,750 meters (12,300 feet) above sea level, towering 100 meters (300 feet) above the city of Lhasa.
It is considered a world wonder and a pilgrimage site for having stood for centuries as a testament to the Tibetan people and their beliefs.
Its highlights include the Red and White Palace that not only covers beautiful murals but also gives the feel of Tibet's old stories.
The Red Palace which is higher than the two palaces was made-up of several chapels and is used as a house prayer by the Dalai Lama while the White Palace contains the courts and offices of the Tibetan government, governmental assembly halls, and other official offices.
There's a lot of artifacts found within the two castles along with wall frescoes, and topmost hall.
Also, check-out the unique view of the golden roof at the top of the Potala Palace. If you are planning to take some cool photos, you can have good shots on the roof of Jokhang Temple (east of the palace) and Chakpori (southwest of the palace) where you can have the best view and appreciate the panorama of the spectacular building.
With due respect for the beliefs and traditions of the temple, it is well advised to wear proper attire which does not include revealing clothes, hats or caps, sunglasses, or masks when visiting the site. Modest clothing is widely encouraged.
The Li River in Guilin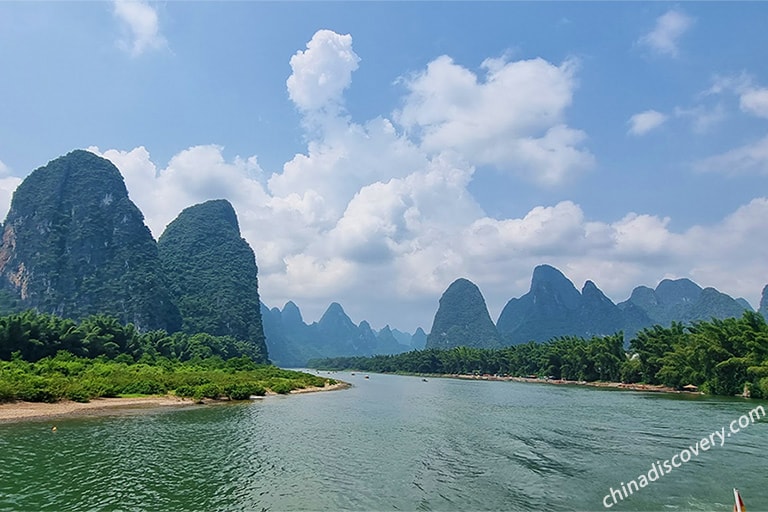 The Li River, also known as Li Jiang, is found in Guilin, in South China's Guangxi Province. It is famed for being one of "the world's top 10 watery wonders", as stated by National Geographic.
There are certain activities that you can do here like taking a cruise tour, a bamboo raft trip or even hiking. If you are looking for just mere relaxation and a good view, taking a boat cruise is best for you. Appreciate the karst landscape along the river with meals and comfortable seats included. You can choose from either a 4-star and 3-star boat.
This boat trip from Guilin to Yangshuo has been one of the most popular activities in Guilin, so if you've got the budget, this is a must-try. Another option you can try was taking a bamboo raft. It is a more traditional way to travel in the Li River and also has shorter routes than cruises.
It can also be affected by the weather but it can be a simple, fun experience too. If you get tired of being around water you can try hiking alongside the river.
It is the best way to get close to nature, meet local farmers and also have some exercise. Just make sure that you are in a good condition to hike to avoid accidents and problems along the way.
The West Lake in Hangzhou
An iconic and symbolic sight in Hangzhou which has been a subject for many beautiful poems and paintings. Its mesmerizing sight plus the legends originated in it adds up to this lake's aura of romance.
There's a couple of scenic spots found in the West Lake and of them was the Su Causeway which is one the most popular.
It is covered with peach blossoms and weeping willow catkins during spring which creates a charming vibe for the causeway. Another one was the Three pools mirroring the moon which image is printed on the one yuan bank note.
It got its name from the Mid-Autumn Festival, when they light candles on each of the three pagodas during the moon's brightest. The light from the pagoda windows and the moon cast their reflection on the water, hence the name. One of the popular ways to explore the West Lake is by biking or walking around the lake.
It is well recommended to be done on Su Causeway and Bai Causeway where no motor vehicles are allowed and can assure you to have a safe and quiet trip beside the lake. Boating is also a common activity done here.
The Bund in Shanghai
The bund is well known for its colonial buildings and skyscraper views. For a century, it has been one of the most recognizable symbols and the pride of Shanghai.
First thing you can appreciate here was the mile-long stretch filled with 52 buildings of various architectural styles, including Gothic, baroque, and neoclassical styles which are referred to as "the museum of buildings".
Take a walk along the Bund in order to have a good view and to appreciate the buildings. You can also consider taking a Huangpu River Cruise which is best to take at night to witness the enchanting night view of Shanghai.
If you have limited time and also want to save some money, you can take a ferry across Pudong instead as it only costs 2 yuan but still provides an opportunity to see the scenery on both sides of the river.
Bund is also not focused on tourists as it is also a great spot for locals to do their morning routines and exercises. If you wake up early, you may have a chance to witness locals practicing tai chi, jogging, and more. You can also spend some time in Huangpu Park or go shopping around the area.
Zhangjiajie City in Hunan Province
Located on the northwest edge of Hunan Province in China, Zhangjiajie City is a city rich in both mountains and rivers and also a perfect place to explore nature. Though there is still no available high speed train to Zhangjiajie, you can visit Zhangjiajie by bullet train to make a transfer via Changsha, the capital of Hunan Province.
Zhangjiajie is a beautiful mountainous area, and highlights that you can visit are the canyon, National Forest Park, caves, and lakes. It is also made famous by the movie "Avatar" where the stone hill (Nan Tian Yi Zhu) is the prototype of Pandora's Hallelujah Mountain in the movie.
Victoria Harbor in Hong Kong
Victoria Harbor Line is the best place to appreciate the mighty skyscraper skyline. The Victoria Peak is the best spot to see the iconic outlook over Hong Kong's "high rise" to success and prosperity in a bird's eye view.
It is best to visit at night as the scenery is dashing and is filled with colors especially when the Symphony of Lights of various buildings dances in unison.