Travelling is one of the most common wishes of people. I mean, who doesn't even want to go and explore the world? Absolutely no one, I believe. It's a very extraordinary, sometimes even a once in a lifetime, experience to travel to a certain place. Finding out and learning about their history, culture, and traditions is very fascinating and interesting for most people. This is true especially if a certain country has a very rich culture that is worth it to discover and learn about. Travelling is a very nice experience where you can enjoy and learn at the same time. Deciding on travelling is not even a question. It's just about finding the right country to visit and enjoy your time with. Going out of your comfort zone is one of the best challenges we face in life. And the best way to do it is by travelling alone to learn more not just about places but also learning more about yourself. Travelling is important because it's not just a privilege that someone can easily have. It's also a very positive experience that should not ever be turned into a wasted opportunity, and I mean never. Going on vacations and travelling all across the world provides a lot of colors to our lives. It gives us a certain feeling of satisfaction that we would not be able to get with any other activity or thing out there. It truly is a one of a kind feeling that is surely something that you wouldn't even want to miss.
One of the countries in Southeast Asia, Thailand boasts of the country's rich culture and natural beauty. This country's history is something that is worth knowing about. Although it is not the largest country in Asia, Thailand still offers a lot of wonderful places to visit and just enjoy. This place offers a lot of beautiful sites that vary from beaches, to historical places, to modern and ancient cities. You won't run out of options here in Thailand. Luckily for you, we made a list of the top 10 places that you need to prioritize to visit in Thailand.
BANGKOK
Bangkok is one of the well known places around the world when you mention Thailand. This is the Capital City of Thailand. It is known to hold the country's largest economic district, historical places and you'll be amazed by the city's landscapes and skyscrapers. The primary symbols of the city's founding and also the most important Budhist temples can be found in the city's Rattanakosin Island in Phra Nakhon District, which is also where Bangkok's historic centre remains. This place became the country's first city back in the 19th century together with its neighbouring city. You must also include on your list of places to visit in Bangkok is the Grand Palace to view the well known Wat Phra Kaew or the Temple of the Emerald Buddha. Contrary to these low rise historic buildings are the skyscrapers at the business district which are Si Lom and Sathon Roads in Bang Rak and Sathon District. These places are the best to visit and offer also the city's best food delicacies and street foods.
PHUKET
Phuket is known as the oldest city in Thailand. In this place, Buddhism is the religion and most of the buildings are mosques where people go to worship. Tourists are allowed to enter these places but must follow its rules like the clothes to wear and some holy places will ask people to wash their feet before entering the place and will need to light up incense to show respect. The architectural style of the City is more on Chinese-Europian combination. This makes the city more beautiful in the eyes of the tourists. You can also visit the well known beach in Phuket which is Patong. The beach has 4 or 5 star hotels to offer that surely fits your budget. Phuket is also known for its accessibility, which was made by the Phuket Airport. You can choose to directly land on this place and visit the hotels and beaches first for your vacation.
AYUTTHAYA
Ayutthaya is best known as the trading capital of Asia for it's best location. It is located between the Malay Archipelago, India and China. This place also holds the title as UNESCO World Heritage Site as it is filled with numerous historical sites and temples. The City is just a few hours away from Bangkok and is also known as the second Capital of Thailand. This is also the place where you'll see the historic head of Budha covered by roots. If you want a jump back to Thailand's culture and a couple history of Buddhism, you'll just need to go and visit this place.
SUKHOTHAI
Sukhothai is one of those places where temples are a must. Thailand seems to have lots of temples and Sukhothai holds temples from the thirteenth and fourteenth century. These temples are still being used by locals to worship and tourists are also welcome to enter in some of them. Again, some temples have rules to follow and most of them are strictly on how you were dressed.
CHIANG RAI
Chiang Rai is the largest city northernmost of Thailand. This place was then known as a capital city during the reign of King Mangrai in 1262 CE. It is a place to see architectural masterpieces which will surely make you go "Wow!". It is home to the White Temple which is known as Wat Rong Khun and the Black Houses which is known as Baan Dam. These places are just some of the ones to visit within Chiang Rai. Tourists sometimes skip this city when in fact it is a place worth visiting. Chiang Rai is 1 hour and 30 minutes away from north Bangkok by plane but most tourists enjoy riding buses where you can lay down when in Thailand. Chiang Rai also has its own airport where sometimes some airlines have flights to go direct to. Something to look forward to, right?
KO PHI PHI IN KRABI PROVINCE
If you like beaches and seas, then you need to go to Krabi Province. This place is located in the southern part of Thailand and is the home to the most popular beaches not only in Thailand, but in the whole Asia. One of the most popular destinations in this province is Ko Phi Phi. This is a small archipelago but it already is the largest island of the group of islands in Krabi province. This is also the only island in the province where there are people who permanently live here. The whole island's infrastructures were almost destroyed in the Indian Ocean tsunami in December of the year 2004. However, redevelopment was very quick to establish life on the island once again. There are a lot of beaches in the area so make sure to check out at least a few of them when you go to the Krabi province.
KO CHANG
Known as Thailand's second largest island, Ko Chang holds the title of being the best tropical destination off the coast of Thailand. It is located near the southeastern part of the country's coast that is near the border of Cambodia. This island boasts of its beautiful white sands and unspoiled areas of rainforests. One of the most popular travel destinations in Ko Chang is the White Sand Beach. It is located in the northwestern part of the island and is considered as the longest beach in the whole island.The place is filled with resorts and hotels which are lined with the beautiful, pure white sands. Another popular destination in the island is the Hat Khlong Pao. This beach is known for its picturesque views and beautiful pier where you can enjoy watching the views offered by the scenery. When you go to this place, you will never run out of options and things to do. The island offers a lot of recreational activities such as scuba diving, jungle trekking, and kayaking.
PHANOM RUNG
Have you ever wondered what an ancient Hindu temple looks like? Then you should for sure visit Phanom Rung. This temple is a sanctuary built by the Khmer Empire that was dedicated to the Hindu God, Shiva. It was built somewhere during the 10th and 13th centuries and is made out of sandstone and laterite. The temple was constructed to follow the design of Mount Kailash, a place that Hindus believe is the sacred home of the god Shiva. This temple sits upon an extinct volcano located in the northeastern portion of Thailand near the village of Nang Rong. The shrine has 15 doorways and is facing the east. One fun fact about this place is that the sun shines through all the 15 doorways of this temple at exactly 4 times per year. During these times, tourists are allowed in for an extended time than usual. Locals from this place also celebrate a festival called Phanom Rung Festival in April of every year. Make sure to visit this place during this time.
KHAO SOK NATIONAL PARK
Thailand is filled with beautiful wildlife reserves and Khao Sok National Park is one of them. It features huge coverage of jungle forests, limestone karsts, rivers and lakes in the Surat Thani province of southern Thailand. It is also home for different wildlife animals such as Asian elephants, Malayan tapirs, barking deer, wild boar, and different monkey breeds like langurs, pig-tailed macaques and gibbons. During the late January and early February, exotic flowers can be seen growing around the area which includes the rafflesia flowers.There are several trails that visitors can choose from starting from a trek in the jungle to spot wildlife, have a couple of nice shots of the beautiful waterfalls, take a dip in the natural pools, or just admire the stunning vistas from viewpoints. You may also enjoy other activities like zip lining, cave exploring, kayaking and tubing in the Sok River. You can also buy a couple of things from their souvenir shops and convenience stores.
PAI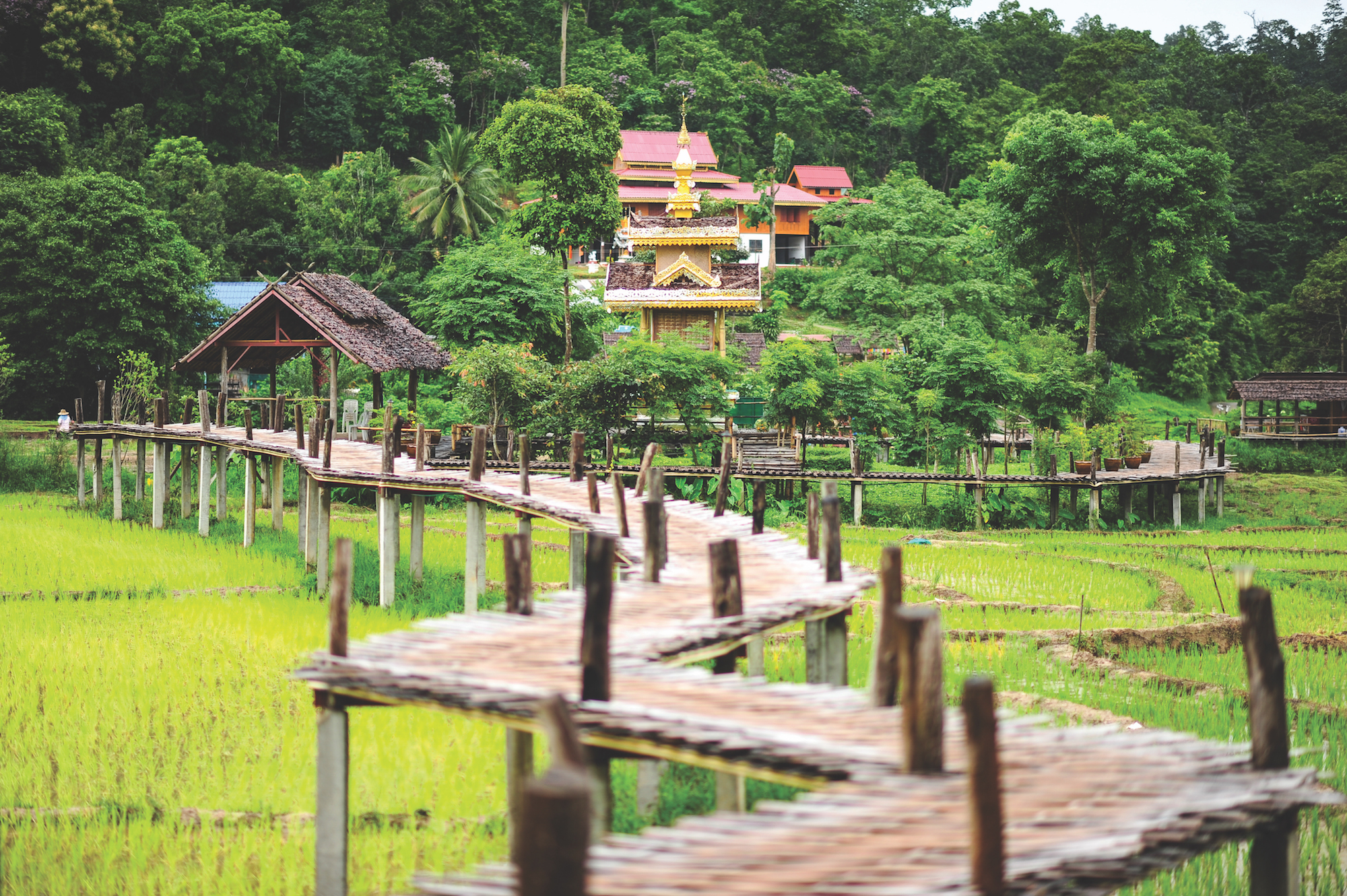 Known for its picturesque valley views and calm vibe, Pai is a quiet village in the northern part of Thailand. This place has been a very well known tourist spot during the last few years. Because of the sudden popularity, Pai has developed a lot of tourist spots such as guest houses, restaurants, markets, bars, and various shops. One of the most popular tourist facilities in the area is the Pai Wednesday Market. This certain place is visited not only by the people in Pai village, but also a lot of people from the surrounding areas. Pai is an absolute travel destination for most people who are very adventurous. This place became famous for a lot of different activities such as trekking and hiking because of its location at the bottom of mountains. Going to this place also offers you to visit the hill tribes in the area such as Lisu, Karen, Hmong, and Lahu. If you like adventures and relaxing vibes combined to one place, Pai is the right place for you. Travelling, or going on a vacation, is certainly one of the greatest chances that there is to just relax and have fun. There are a lot of positive things that only travelling could bring into our lives. It can affect us in many ways than one and it can help us discover and learn about ourselves better. It is very important to have a solid plan when you're thinking of going on a vacation or to travel. Visiting Thailand is one of the nicest experiences that you'll have in your lifetime. Make it a must to visit this exquisite country and learn about their culture and traditions. Take a stroll through the wonderful places all over Thailand. Never miss out on this once in a lifetime experience to visit this very beautiful country. Take time to appreciate the beautiful wonders that Thailand can offer.